Zone Valve and Alarm Labels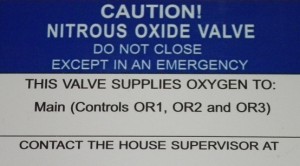 Whether you need one new label or would like to replace all of your alarm and zone valve labels, we can quickly and professionally create custom labels to your specifications.
Our custom designed label sets fulfill all NFPA 99, 2005 requirements and look good too…  Each vinyl label is custom printed with the name of the system gas or vacuum in colors adhering to NFPA 99, 2005 table 5.1.11.  Each label set includes two labels and two label backings.  The smaller label is to be affixed to the inside of the zone valve box using double-sided tape or may be installed using zip ties.  The larger label is to be installed outside the valve box, in a position that is readily visible.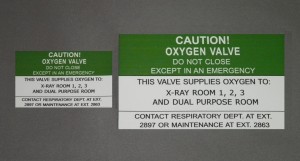 Please advise us if you would like us to include your system pressure on the labels (this is required when your positive pressure system is operating at pressures other than 50-55 PSI (160-185 PSI for nitrogen or instrument air).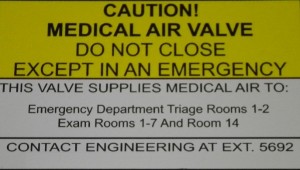 Please advise us if you would like to mount the smaller of the valve labels using double-sided tape only.  (Standard backing on the smaller labels is cut larger to allow for tape or zip tie mounting.  Note the backings are not pre-drilled for zip tie mounting.)